Ladakh Tour Package from Hyedrabad
Ladakh Tour Package from Hyderabad A land like no other with a superabundance of attractions to visit and fabulous landscapes, amazing people and culture, Place is truly a heaven on Earth.
Bounded by two of the world's mightiest mountain ranges, the Great Himalaya and the Karakoram, it lies athwart two other, the Ladakh range and the Zanskar range. Ladakh is mystical in all the spheres it covers, from nature, geography, sceneries to the modest cultures that it fosters. Right from gompas to the sensational momos, the superabundance of attractions to visit makes this city make it heaven on earth. It is said that only in Ladakh can a man sitting in the sun with his feet in the shade suffer from sunstroke and frostbite at the same time.

For those of us living in the constant confusion about the difference between these twin locations, Leh-Ladakh, here is something that might help you. The state of Jammu and Kashmir is divided into three parts: Jammu, Kashmir, and Ladakh. Ladakh, further is divided into two districts: district Leh, and district Kargil. The former district has a popular town "Leh"and is a great tourist attraction because of its beautiful monasteries, picturesque locations, and interesting markets defining the culture of the place.
Yaseen Overseas, one of the most reliable and efficient travel company, presents tourists with a wide range of Kashmir packages. Travel experts at Yaseen Overseas take care of various aspects of travelling such as duration of the trip or budget limits of tourists or kind of package, etc. and then accordingly design the Kashmir tour packages. Some of the tour packages offered are Honeymoon packages, family tour packages, adventure packages, business tour packages and many more. If interested, tourists can also get customised Kashmir packages suiting their specific needs and budget limits. We ensure that our clients get best possible deal and best of services irrespective of the kind of Kashmir package they are selecting or the budget limits.
06 Nights / 07 Days Ladakh Package Valid From 15-April-2020 To 31-August-2020 
Cost of Double Sharing Per Person Net & Non-Commissionable

02 Nights Leh + 02 Nights Nubra Valley + 01 Night Pangong Lake + 01 Night Leh.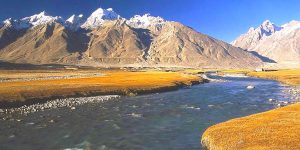 | No. Of Pax | Standard | Deluxe | Super Deluxe | Semi-Luxury | Luxury | Premium |
| --- | --- | --- | --- | --- | --- | --- |
| 02 Pax | INR.27,650/- | INR.29,800/- | INR.30,700/- | INR.35,600/- | INR.46,650/- | INR.52,650/- |
| 04 Pax | INR.19,700/- | INR.21,850/- | INR.22,750/- | INR.27,650/- | INR.38,700/- | INR.44,700/- |
| 06 Pax | INR.17,000/- | INR.19,150/- | INR.20,050/- | INR.24,950/- | INR.36,000/- | INR.42,000/- |
| 08 Pax | INR.17,000/- | INR.19,150/- | INR.20,050/- | INR.24,950/- | INR.36,000/- | INR.42,000/- |
| 10 Pax | INR.16,000/- | INR.18,150/- | INR.19,050/- | INR.23,950/- | INR.35,000/- | INR.41,000/- |
| 12 Pax | INR.15,350/- | INR.17,500/- | INR.18,400/- | INR.23,300/- | INR.34,350/- | INR.40,350/- |
| Extra Bed | INR.9,500/- | INR.10,400/- | INR.12,200/- | INR.16,000/- | INR.21,600/- | INR.25,800/- |
| No Bed | INR.8,200/- | INR.8,600/- | INR.9,000/- | INR.11,000/- | INR.13,400/- | INR.19,200/- |
Click here for Kashmir tour package