Umrah Travel Agent Bahrain Ramadan Package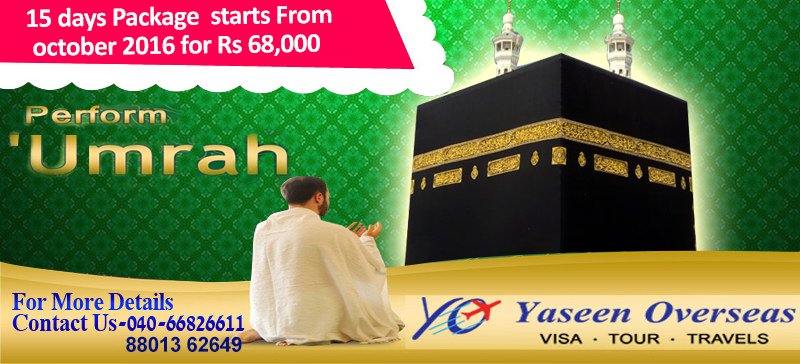 UMRAH VISA GROUP FROM JANUARY 2020 - JULY 2020
Latest price update for Umrah visa packages from Hyderabad Telangana (price update on 10/01/2020) Due to increase in visa rates 300% + Insurance Charges Rs. 4000/-
Date From
Date To
Total Days
Package Type
Adult Fare
Child Fare Without Bed Age 3-8
Infant Fare
Hotel in Makkah
Hotel in Madina
Flight
Route
Status
GROUP
Note: In case of any price hike in Visa, Hotel, Flights and Currency Exchange Passenger has to pay it.
21-MAR-2020
04-APR-2020
15
DELUXE Package
63000/-
52000/-
23500/-
NADA ALDIYAFA HOTEL 200 MTS
JAWAR TAIBA HOTEL 100 METRS
Saudia
HYD-JED-HYD
CANCEL
ID
23-MAR-2020
06-APR-2020
15
STANDARD Package
63000/-
52000/-
23500/-
NADA ALDIYAFA HOTEL 200 MTS
JAWAR TAIBA HOTEL 100 METRS
SpiceJet
HYD-JED-HYD
CANCEL
ID
23-MAR-2020
06-APR-2020
15
DELUXE Package
63000/-
52000/-
23500/-
NADA ALDIYAFA HOTEL 200 MTS
JAWAR TAIBA HOTEL 100 METRS
Saudia
HYD-JED-HYD
CANCEL
ID
25-MAR-2020
08-APR-2020
15
STANDARD Package
63000/-
52000/-
23500/-
NADA ALDIYAFA HOTEL 200 MTS
JAWAR TAIBA HOTEL 100 METRS
SpiceJet
HYD-JED-HYD
CANCEL
ID
25-MAR-2020
08-APR-2020
15
DELUXE Package
63000/-
52000/-
23500/-
NADA ALDIYAFA HOTEL 200 MTS
JAWAR TAIBA HOTEL 100 METRS
Saudia
HYD-JED-HYD
CANCEL
ID
SHABBE BARATH
CANCEL
26-MAR-2020
09-APR-2020
15
STANDARD Package
71000
52000/-
25000/-
NADA ALDIYAFA HOTEL 200 MTS
JAWAR TAIBA HOTEL 100 METRS
SpiceJet
HYD-JED-HYD
CANCEL
ID
26-MAR-2020
09-APR-2020
15
DELUXE Package
71000/-
52000/-
25000/-
NADA ALDIYAFA HOTEL 200 MTS
JAWAR TAIBA HOTEL 100 METRS
Saudia
HYD-JED-HYD
CANCEL
ID
CANCEL
29-MAR-2020
12-APR-2020
15
STANDARD Package
64500/-
52000/-
23500/-
NADA ALDIYAFA HOTEL 200 MTS
JAWAR TAIBA HOTEL 100 METRS
Air India
HYD-JED-HYD
CANCEL
ID
28-MAR-2020
11-APR-2020
15
DELUXE Package
63000/-
52000/-
23500/-
NADA ALDIYAFA HOTEL 200 MTS
JAWAR TAIBA HOTEL 100 METRS
Saudia
HYD-JED-HYD
CANCEL
ID
30-MAR-2020
13-APR-2020
15
STANDARD Package
63000/-
52000/-
23500/-
NADA ALDIYAFA HOTEL 200 MTS
JAWAR TAIBA HOTEL 100 METRS
SpiceJet
HYD-JED-HYD
CANCEL
ID
30-MAR-2020
13-APR-2020
15
DELUXE Package
63000/-
52000/-
23500/-
NADA ALDIYAFA HOTEL 200 MTS
JAWAR TAIBA HOTEL 100 METRS
Saudia
HYD-JED-HYD
CANCEL
ID
31-MAR-2020
14-APR-2020
15
STANDARD Package
64500/-
52000/-
23500/-
NADA ALDIYAFA HOTEL 200 MTS
JAWAR TAIBA HOTEL 100 METRS
Air India
HYD-JED-HYD
CANCEL
ID
31-MAR-2020
14-APR-2020
15
DELUXE Package
63000/-
52000/-
23500/-
NADA ALDIYAFA HOTEL 200 MTS
JAWAR TAIBA HOTEL 100 METRS
Saudia
HYD-JED-HYD
CANCEL
ID
01-APR-2020
15-APR-2020
15
DELUXE Package
63000/-
52000/-
23500/-
NADA ALDIYAFA HOTEL 200 MTS
JAWAR TAIBA HOTEL 100 METRS
Saudia
HYD-JED-HYD
ID
02-APR-2020
16-APR-2020
15
DELUXE Package
SHABBE BARATH
68000/-
52000/-
23500/-
NADA ALDIYAFA HOTEL 200 MTS
JAWAR TAIBA HOTEL 100 METRS
Saudia
HYD-JED-HYD
ID
05-APR-2020
19-APR-2020
15
DELUXE Package
64500/-
52000/-
23500/-
NADA ALDIYAFA HOTEL 200 MTS
JAWAR TAIBA HOTEL 100 METRS
Air India
HYD-JED-HYD
ID
07-APR-2020
21-APR-2020
15
DELUXE Package
70000/-
52000/-
23500/-
NADA ALDIYAFA HOTEL 200 MTS
JAWAR TAIBA HOTEL 100 METRS
Air India
HYD-JED-HYD
ID
09-APR-2020
23-APR-2020
15
DELUXE Package
SHABBE BARATH
73000/-
52000/-
23500/-
NADA ALDIYAFA HOTEL 200 MTS
JAWAR TAIBA HOTEL 100 METRS
Saudia
HYD-JED-HYD
ID
12-APR-2020
26-APR-2020
15
DELUXE Package
70000/-
52000/-
23500/-
NADA ALDIYAFA HOTEL 200 MTS
JAWAR TAIBA HOTEL 100 METRS
Air India
HYD-JED-HYD
ID
14-APR-2020
28-APR-2020
15
DELUXE Package
70000/-
52000/-
23500/-
NADA ALDIYAFA HOTEL 200 MTS
JAWAR TAIBA HOTEL 100 METRS
Air India
HYD-JED-HYD
ID
16-APR-2020
30-APR-2020
15
DELUXE Package
SHABBE BARATH
77000/-
52000/-
23500/-
NADA ALDIYAFA HOTEL 200 MTS
JAWAR TAIBA HOTEL 100 METRS
Saudia
HYD-JED-HYD
ID
19-APR-2020
03-MAY-2020
15
DELUXE Package
RAMZAN

73500/-
52000/-
23500/-
NADA ALDIYAFA HOTEL 200 MTS
JAWAR TAIBA HOTEL 100 METRS
Air India
HYD-JED-HYD
ID
21-APR-2020
05-MAY-2020
15
DELUXE Package
RAMZAN

73500/-
52000/-
23500/-
TAJ MANAZIL AL IKRAM 500 MTRS
JAWAR TAIBA HOTEL 100 METRS
Air India
HYD-JED-HYD
ID
RAMZAN PACKAGE
23-APR-2020
07-MAY-2020
15
DELUXE Package
79500/-
52000/-
23500/-
TAJ MANAZIL AL IKRAM 500 MTRS
JAWAR TAIBA HOTEL 100 METRS
Saudia
HYD-JED-HYD
ID
24-APR-2020
08-MAY-2020
15
DELUXE Package
77500/-
52000/-
23500/-
TAJ MANAZIL AL IKRAM 500 MTRS
JAWAR TAIBA HOTEL 100 METRS
Air India
HYD-JED-HYD
ID
25-APR-2020
09-MAY-2020
15
DELUXE Package
79500/-
52000/-
23500/-
TAJ MANAZIL AL IKRAM 500 MTRS
JAWAR TAIBA HOTEL 100 METRS
Saudia
HYD-JED-HYD
ID
25-APR-2020
09-MAY-2020
15
DELUXE Package
79500/-
52000/-
23500/-
TAJ MANAZIL AL IKRAM 500 MTRS
JAWAR TAIBA HOTEL 100 METRS
Saudia
HYD-JED-HYD
ID
26-APR-2020
10-MAY-2020
15
DELUXE Package
77500/-
52000/-
23500/-
TAJ MANAZIL AL IKRAM 500 MTRS
JAWAR TAIBA HOTEL 100 METRS
Air India
HYD-JED-HYD
ID
27-APR-2020
24-MAY-2020
30
DELUXE Package
RAMZAN 1 MONTH PACKAGE
110000/-
52000/-
23500/-
TAJ MANAZIL AL IKRAM 500 MTRS
JAWAR TAIBA HOTEL 100 METRS
Saudia
HYD-JED-HYD
ID
28-APR-2020
26-MAY-2020
30
DELUXE Package
RAMZAN 1 MONTH PACKAGE
104000/-
52000/-
23500/-
TAJ MANAZIL AL IKRAM 500 MTRS
JAWAR TAIBA HOTEL 100 METRS
Air India
HYD-JED-HYD
ID
30-APR-2020
14-MAY-2020
15
DELUXE Package

79500/-
52000/-
23500/-
TAJ MANAZIL AL IKRAM 500 MTRS
JAWAR TAIBA HOTEL 100 METRS
Saudia
HYD-JED-HYD
ID
04-MAY-2020
18-MAY-2020
15
DELUXE Package
79500/-
52000/-
23500/-
TAJ MANAZIL AL IKRAM 500 MTRS
JAWAR TAIBA HOTEL 100 METRS
Saudia
HYD-JED-HYD
ID
05-MAY-2020
24-MAY-2020
20
DELUXE Package
89500/-
52000/-
23500/-
TAJ MANAZIL AL IKRAM 500 MTRS
JAWAR TAIBA HOTEL 100 METRS
Air India
HYD-JED-HYD
ID
07-MAY-2020
27-MAY-2020
20
DELUXE Package
20 DAYS
99500/-
52000/-
23500/-
TAJ MANAZIL AL IKRAM 500 MTRS
JAWAR TAIBA HOTEL 100 METRS
Saudia
HYD-JED-HYD
ID
Umrah Travel Agent Bahrain

Ramadan Package
Umrah Travel Agent Bahrain Ramadan Package
Umrah Travel Agent Bahrain Ramadan Package
UMRAH GROUP TRAVELING SCHEDULES
NOTE : Haji Has to bare 2000 Saudi Riyals ( approximate INR 36000) extra as per new Saudi Law (for second time visitor those who already travelled after Muharram 2013).
Checking eligibility for Free umrah visa please send your passport number to yaseenoverseass@gmail.com and info@yaseenoverseas.com
Umrah Visa Package January 2018 ( New )
Umr
Stay at above mentioned hotels
Round Trip Transportation by Deluxe King Long Bus (JED-MAK-MED-JED)
Ziyarat in Makkah & Madinah
Three times food
Airfare  Saudi Airlines
Zamzam and Sim Card
Umrah Travel Agent Bahrain Ramadan Package
Packages Includes & Conditions Apply:
UMRAH Visa & Air Line Ticket. Hyd – Jed – HYD, 15 days stay with inclusive quality tour.
7 days at Makka, Hotel Distance 250 mtr – 400 mtr from Haram (MAKKA )
8 days at Madina , Markazia (MADINA)
Variety of Hyderabadi Food. Daily Breakfast , Lunch & Dinner
Round Trip transportation in AC Deluxe Buses
Accommodation in 4 Star hotels
Flight Schedule , Hotel and itinerary are subject to changes without prior notice
Please Provide 4 photos of 4cmX6cm of white background & 6 Month valid Passport for UMRAH VISA
Ziarat In MAKKA with guide , Ziarath in MADINA with Guide
Due to any reason if passenger cancel the tour at last moment they will have to pay the room rent & Visa + Ticket Charges
Welcome KIT (Hand Bag ,  ID card , Tasbih), And 5Ltr OR 10ltr ZAM –ZAM for adults as a gift
Packages Includes for MT group:
3 times Hyderabadi Food
Zayarah Of Important Places Includes in the package.
pick and drop facility free from hotel
Umrah Travel Agent Bahrain Ramadan Package    Umrah Travel Agent Bahrain Ramadan Package