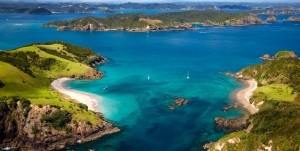 The Bay of Islands is an area on the east coast of the Far North District of the North Island of New Zealand.
Wikipedia
The Bay of Islands is a subtropical micro-region known for its stunning beauty & history. For those that love beaches and water activities, it's paradise.
A three hour drive or 35 minute flight north of Auckland, the Bay of Islands encompasses 144 islands between Cape Brett and the Purerua Peninsula and includes the boutique towns of Opua, Paihia, Russell and Kerikeri.