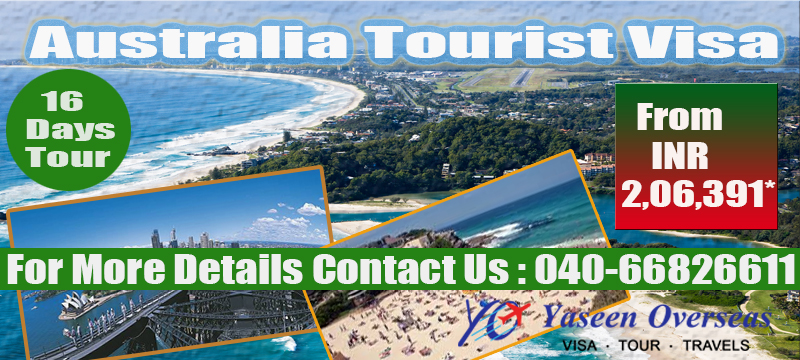 Tourist Visa for 16 Days & 15 Nights, Starts from 2,06,391 & service charges may applied. For more details  contact us:040-66826611
australia-tourist-visa600#1e73be
What's Included
>Overseas Medical Insurance for the duration of the tour (Sum of US$ 2,50,000 covered)
>Hostels (10 nts),
>Swag/canvas bedroll (1 nt),
>Maxi yacht (2 nts),
>Beach side permanent tented camp (2 nts).
Note: Accommodation on all the nights are on multi-share basis
>Meals Included:14 breakfasts,2 lunches,7 dinners.
>Private bus, train, maxi yacht, 4×4 safari vehicle, ferry
>Hunter Valley wine tasting.
>Sheep shearing demonstration.
>Gold panning and mine tour.
>Surf and yoga lessons.
>Private 4×4 excursion and exclusive camp on Fraser Island.
>Sailing in the Whitsundays.
>Visit to White haven Beach.
>All transport between destinations and to/from included activities.
>Services of Chief Experience Officer (CEO) throughout the tour.
16 Days & 15 Nights
DAY 1 Sydney
Arrive in Sydney at any time. There are no planned activities during the day, so check into the hotel and explore the city. Please try to arrive before 7pm for an important group welcome meeting where you can meet the Chief Experience Officer (CEO) and the other group members.
Please note: if you have pre-booked the Sydney Bridge Climb, the Byron Bay Skydiving and Cairns Whitewater Rafting your CEO will inform you when you will do the activity throughout your tour, days are subject to change: Bridge Climb (Day 1 – Sydney), Skydiving (Day 6 – Byron Bay) and Whitewater Rafting (Day 15 – Cairns). For more information on the Extra see the Optional Activities section.
If you arrive early enough, you'll have time to head down to the harbour's edge to 'The Rocks' historic area, the Opera House and visit the Botanical Gardens. (None (Meals on your own))
DAY 2 Nundle Sheep Station
Depart in the morning, drive to the famous wine region of the Hunter Valley for an included wine tasting and talk on the history of wine-making in the area. Afterwards, head to a small country town for lunch before continuing to Nundle Sheep Station for the night. At the sheep station you'll have a unique opportunity to meet old sheep shearer and experience a shearing demonstration and talk on sheep farming in the area. At the end of the day enjoy a lamb dinner with the locals before sleeping in the historic shearer's quarters.
The sheep station is quite remote and there is usually no reception for mobile phones.
Estimated travel time: 6 hours
Travel distance: 380 km (Breakfast,Dinner)
DAY 3 Bingara
After breakfast, drive to the Country and Western music capital of Australia, Tamworth, also home to a giant guitar. Arrive in Bingara in the early afternoon for an included visit to a historic gold mine where you can try gold panning. At the end of the day, bed down at a hotel on a working farm.
Estimated travel time: 3 hours
Travel distance: 210 km
Opt to go horseback riding or swim in a local watering hole. (Breakfast,Dinner)
DAY 4 Yamba
Travel through the rainforest to the coastal town of Yamba, stopping en route at Mile Creek, where you'll learn a bit about Aboriginal culture and the significance of the site to the Aborigines.
Estimated travel time: 5 hours
Travel distances: 380 km
Once in Yamba, head to the beach for a swim. End an active day by savouring the local delicacy of fish and chips on the beach with fellow group members. (Breakfast)
DAY 5 Byron Bay
After breakfast, travel the coastal road to the stunning surf and arts town of Byron Bay.
Accommodation in Byron Bay is in a unique and exclusive section of an old hippy commune, embracing nature and a peaceful way of life.
Estimated travel time: 2 hours
Travel distance: 128 km
There is plenty of free time to experience this hippie surfing town. Options abound-walk out to the lighthouse on the most easterly point of Australia where there is a chance to see whales swimming off the shore or hang ten with the locals after an included surfing lesson.
(Breakfast)
DAY 6 Byron Bay
Day 6 is yours to explore-start it off with an included yoga lesson, walk along the long stunning beach, play in the surf, or simply hang out in the Buddha Bar and people watch. If you'd like to get your adrenaline pumping, go skydiving, try sea kayaking or go on a dolphin watch. (Breakfast)
DAY 7 Brisbane
This morning head out of the relatively undeveloped area of Byron to Australia's most developed surf beach area 'The Gold Coast'. Famous for its stunning beaches, bronzed locals and meter maids who wear bikinis. We stay for a few hours to let you take it all in before heading an hour further up the road to Brisbane, Queensland's capital city.
Our hotel is located in the central business district of Brisbane, take advantage of being in the heart of the city by visiting some local hot spots.
Estimated travel time: 4 hours
Travel distance: 288 km (Breakfast)
DAY 8 Fraser Island
Travel by private bus up the coast then switch to 4×4 to drive along the beach to the ferry that heads to Fraser Island. Once on the island, drive along the beach until camp is reached. The camp consists of permanent tents to be shared by up to 4 people and will be exclusive to the G group during the stay. The tents are located in the bush beside the beach. Once settled in, enjoy an evening barbecue with good company on the beach.
Fraser Island is the world's biggest sand island. Depending on the tides, we will explore the island either via an inland road or right on the beach.
Estimated travel time: 5 hours
Travel distance: 250 km (Breakfast,Dinner,Lunch)
DAY 9 Fraser Island
After a good night of sleep by the beach, the second day on the island offers an included private full day 4×4 trip taking in the highlights of this amazing island including Lake Mckenzie, the rainforest, Pile Valley, 75 Mile Beach, Maheno Shipwreck, Stonetool, Sandblow and the coloured sands. (Breakfast)
DAY 10 Cattle Station
We transfer off the island by boat then catch the train up the 'Capricorn Coast' which is well-known as 'Cattle Country'. Arrive at a remote farm, where we will be located for the night. The workers from the property are excellent hosts as they teach about the history of the farm, the cattle industry, and some of the challenges of raising cattle in such a harsh environment.
Tonight, experience life in Cattle Country the traditional way by sleeping outside in a swag (canvas bedroll) under the stars. This is bound to be one of the most unique and memorable nights of the trip. No worries, there are toilet and shower facilities nearby.
The cattle station is quite remote and neither power points for charging nor reception for mobile phones are available.
Estimated travel time: 6 hours
Travel distance: 416 km (Breakfast,Dinner)
DAY 11 Whitsunday Islands Sailing
After a traditional Outback-style breakfast, transfer to the town of Mackay and embark on a maxi yacht which will be our home for the next three days. Set sail to a secluded cove in the Whitsunday Islands and enjoy some snorkelling before the anchor drops for the night. We are the only company to sail from south to north through the islands instead of backtracking while starting and finishing in the same point.
Take advantage of the included snorkel gear, throw on a mask and see what lives in the Great Barrier Reef. (Note that fins are not provided in order to adhere with local coral conservation efforts.)
Estimated travel time: 4 hours
Travel distance: 281 km (Breakfast,Dinner,Lunch)
DAY 12 Whitsunday Islands Sailing
The sailing route on Day 12 allows us to follow part of Captain's route up through the Whitsunday Islands, stopping for swims and beach visits along the way. Again we drop anchor in a secluded bay for the night.
Options to SCUBA dive are available also. (Breakfast,Dinner)
DAY 13 Whitsundays/Whitehaven Beach/Airlie Beach
A morning sail takes us to one of the most famous places in the Whitsundays, 'Whitehaven Beach'. Stroll along the impossibly white sand beach and go up to the lookout for a great view of the area. After an afternoon sail we arrive in the town of Airlie Beach for a comfortable stay in a local beach resort. Feel free to relax by the pool at the end of the day. (Breakfast)
DAY 14 Cairns
Early morning transfer to the train station. Sit back and admire the scenery as we travel along the coast, through sugar cane country, covering a fair amount of terrain up to Cairns.
Estimated travel time: 10 hours
Travel distance: 650 km (Breakfast)
DAY 15 Cairns
Enjoy a free day to explore this popular northern Queensland city. Cairns is a popular jumping off point for snorkel and diving day trips out to the Great Barrier Reef. Other popular excursions include skydiving, hang gliding, ballooning and whitewater rafting.
There is a vibrant nightlife in Cairns with many high quality restaurants and bars that are open late. Celebrate the last night all together with a night on the town. (None (Meals on your own))
DAY 16 Cairns
Depart at any time. (Breakfast)
Meal basis
As per itinerary – B: Breakfast, L: Lunch, D: Dinner, N: No meals
1>We recommend you to have a meal budget of AUD 215 – 265 for food and drinks which are not included in the programme.
2>This programme is operated on a Coach tour. Maximum Group size is 20 passengers, at an average there are 16 passengers travelling on this tour.
3>This tour combines with other G Adventures tours. As such, some staff and travel companions may be continuing together on another G Adventures tour after your trip concludes. Additionally, this tour is a combination of several G Adventures tours, and your CEO, fellow passengers or vehicle may change between the individual tour sections.
4>Note that only 1 piece of luggage and 1 carry on are allowed on the Queensland train. If you exceed this allowance, AUD15 may be charged upon boarding the train.
5>Itinerary descriptions are guaranteed with the exception of unforeseen conditions which include, but are not limited to, road closures due to weather, acts of God, safety concerns, changes to highway legal restrictions, and acts by third parties beyond the control of Service Provider.
6>There is no refund for any non-utilization of any services.
7>At this point of time no services are confirmed and the same is subject to availability.
8>Request for early hotel check in or late checkout is at the discretion of the accommodation unless pre-booked and pre-paid in advance.
Gel nails first appeared in the U.S. in the early 1980s, Nail gel
but were met with limited success. At the time, Nail care
the manufacturers of gel lights and the gel itself had not joined forces, magnetic gel nail polish
not yet recognizing the need to precisely match the intensity of the light to the photoinitiators in the gel.Best gel nail polish
Nail techs and clients soon found out that ­using the wrong light or applying too much gel caused a burning sensation on the client's fingertips.Buy gel nail polish
Additionally, education on gel application was limited, leaving nail techs in the dark about the product, and home-use ­systems were introduced around the same time, damaging the reputation of salon-use systems by ­association.luxury nail gel
By the end of the '80s, many companies had pulled their gel products from the market.
Nail gel